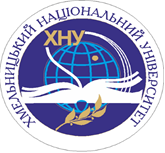 Khmelnytskyi National University is the largest higher education institution in Podillya, which trains specialists in many fields of knowledge and conducts educational, methodological, scientific, and educational work. The university was founded in 1962. During its existence, the university has passed the way from the general technical faculty of the Ukrainian Polygraphic Institute to the Khmelnytskyi National University, which has the highest IV level of accreditation.
The mission of the University is to qualitatively meet the needs of the population in educational services of the highest level, to provide enterprises, institutions, and organizations of the country with qualified personnel, and comprehensive development of a person as individual thanks to the systematic use of advanced educational technologies in the educational process. The university's mission reflects all participants' interests in the educational process. On the one hand, it provides for meeting the market's needs for professional personnel, and on the other hand, it meets the needs of students and teachers regarding their comprehensive professional development.
The training of future specialists is carried out by 7 faculties that provide training in 17 areas of educational and qualification training, including economics and entrepreneurship, management, pedagogical education, art, ecology, applied mathematics, computer science, international relations, philology, engineering mechanics, radio equipment, electronic devices. Today, more than 10,000 students study at the university in 40 fields of study. The educational process is provided by 74 doctors and 453 candidates in sciences.
Khmelnytskyi National University has implemented a degree system of training specialists by educational and qualification levels - bachelor, specialist, and master. Within the framework of this system, there are five educational and scientific production complexes, which include educational institutions of the I-II level of accreditation, secondary schools, and enterprises. The university is a recognized scientific center in Ukraine and abroad, in which more than 15 scientific schools, doctoral studies, postgraduate studies, and scientists of the Council for the Defense of Doctoral and Candidate's Dissertations work.
Khmelnytskyi National University not only actively expands the horizons of domestic education and science, but also persistently gains world recognition, works fruitfully in various directions of international cooperation, and actively participates in various international projects, conferences, and exchange programs of students, teachers, and scientists.
Studying or cooperating with our university will allow you to take a worthy place in society, and achieve the highest results in your professional activity. After all, our large team of employees is aware of their role and responsibility in solving the difficult tasks before us and will make every effort to successfully complete them.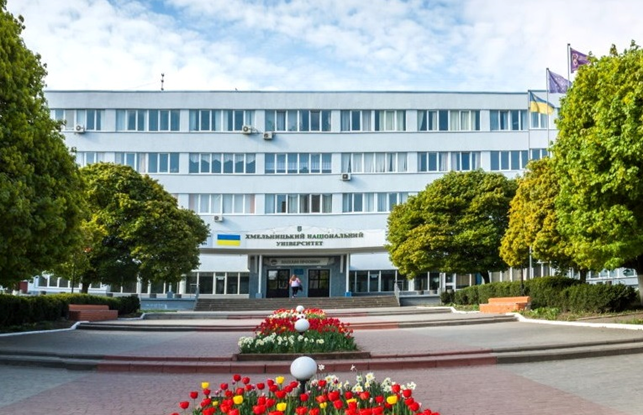 Історія і сьогодення Хмельницького національного університету
| | |
| --- | --- |
| June 1962 | Establishment of the general technical faculty. 250 students were enrolled in the first course of evening and correspondence forms of education. Another 200 correspondence students were transferred from other universities to senior courses. |
| January 1966 | The faculty grows into a branch of the institute. There are 2 faculties: mechanical and general engineering. |
| September 1967 | The branch becomes an independent educational institution — Khmelnytskyi Technological Institute of Household Services. It has 3 faculties: mechanical, technological, and general technical. 1500 students study here. 65 teachers and laboratory assistants work in 9 departments. |
| July 1969 | The institute has 4 faculties, including 2 general technical faculties: Khmelnytskyi and Kamianets-Podilskyi. During the stay of Associate professor M.I. Karpylenka (from July 1969 to December 1974) in the position of rector, a preparatory department, and an engineering and economic faculty were opened at the institute. |
| December 1974 | The Institute is intensively developing under the leadership of Professor R. I. Silin, who was the rector from December 1974 to October 2001. KhTIHS prepares specialists for many branches of the national economy. |
| September 1989 | The institution was granted the status of Khmelnytskyi Institute of Technology. The 4th educational building, 4th and 5th dormitories, a modern library, a canteen, a sports complex, an experimental base for scientific research, two residential buildings, a water and rowing base, and the construction of the 5th academic building were built. Faculties of radio electronics, business and law, and programs for working with foreign students were opened. The institute trains specialists for 47 countries around the world, and postgraduate and doctoral studies are currently active. |
| October 1994 | The institute was accredited at the IV level and received the status of Podillya Technological University. The faculty for work with foreign students was reorganized into a humanitarian and pedagogical faculty. Training of specialists in 8 new specialties opened. |
| September 1995 | The achievements of the Podillya Technological University made it possible to establish a Mukachevo branch with two faculties: engineering and economics and technology. In 1997, the branch became an independent technological institute. |
| February 1996 | A humanitarian and pedagogical faculty was created. |
| September 1996 | Magazines began to be published: "Problems of Tribology", "Bulletin of the Podillya Technological University", "Measuring Techniques in Technological Processes". |
| July 1997 | The university became the winner of the competition of the European Union under the TACIS program "Retraining and employment of reserve officers". During ten years, the university won several grants under this program from the Ministry of Defense of Great Britain, OSCE and NATO. |
| December 1997 | A center for international cultural relations was created. |
| October 2001 | Mykola Skyba was appointed the rector of the university. |
| February 2002 | The "Proskuriv" Youth House was handed over to the University. |
| August 2003 | The university was awarded the honorary badge of the National Olympic Committee "For contribution to the Olympic movement of the NOC of Ukraine." |
| December 17, 2003 | Podillya Technological University was reorganized into Khmelnytskyi State University. |
| October 2003 | Received thanks from the Ministry of Education and Science of Ukraine for assistance in the preparation and participation of the national team of Ukrainian students in the XXII Summer World Universiade (August 21-31, Korea) |
| December 2003 | At the exhibition-competition "High Technologies in Education" a gold medal was received for the development and effective use of the distance learning system. |
| February 2004 | At the VII International Exhibition of Educational Institutions, Khmelnytskyi State University was awarded a diploma for its significant contribution to the modernization of the national education system. |
| April 2004 | Khmelnytskyi State University was awarded a partner diploma for participation in the organization and holding of the First Ukrainian Student Festival of Advertising. |
| September 2004 | Khmelnytskyi State University was granted national status. |
| December 2004 | The international academic popularity rating "Golden Fortune" brought the rector Mykola Skyba a diploma in the nomination "For conscientious work, a significant contribution to the education and upbringing of student youth and the training of highly qualified specialists." |
| February 2006 | The University took the 4th place in the ranking of higher educational institutions in the group of 18 classical universities of Ukraine in 2005. |
| February 2007 | The University was awarded the silver medal of the X International Exhibition "Modern Education in Ukraine - 2007" for a significant contribution to the modernization of higher education in the context of the Bologna Convention requirements in the nomination "Implementation of achievements of pedagogical science in educational practice". |
| February 2007 | The University took the 8th place in the group of 24 classical universities of Ukraine according to the rating of the Ministry of Education and Science of Ukraine for 2006. |
| February 2008 | The University took the 1st place in the city competition for the best improvement of the territory. |
| June 2008 | A 25-year lease agreement has been concluded for the "Proskuriv" Youth House. |
| August 2008 | Rector of the Khmelnytskyi National University Mykola Skyba was awarded the Order of Merit, II degree. |
| August 2008 | Our university students Olga Zhovnir, Olga Khomrova, Olga Harlak won gold medals at the XXIX Olympic Games in Beijing. |
| December 2008 | Mykola Mazur, professor of the Department of Design, was awarded the title of "People's Artist of Ukraine". |
| December 2009 | 4 doctorate and 25 candidate theses were defended; were issued 23 items of textbooks/manuals. |
| June 2010 | We graduated students who started studying under the Bologna system for the first time. |
| December 2011 | Mykola Skyba was elected a valid member of the National Academy of Pedagogical Sciences of Ukraine. |
| October 2012 | Six institutes were reorganized into seven faculties: Faculty of Engineering Mechanics; Faculty of Technology and Design; Faculty of Economics and Management; Faculty of Programming, Computer and Telecommunication Systems; Faculty of Humanities and Pedagogy; Faculty of International Relations; Faculty of Distance Learning, Postgraduate Education and Pre-university Training. |
| March 2015 | Mykhailo Voynarenko was elected a corresponding member of the National Academy of Sciences of Ukraine. |
| March 2015 | Opening of the bust of Taras Shevchenko in the hall of the 3rd building. |
| June 2015 | According to the national rating "TOP - 200 of Ukraine", the university took 39th place among 300 universities of Ukraine. |
| June 2016 | An international expert commission worked at Khmelnytskyi National University, which, as part of the TEMPUS-IV project "ALIGN: Achieving and checking the alignment between academic programs and qualification frameworks", conducted the first stage of evaluation of educational programs for the training of specialists in the field of "Applied Mathematics" for the Bachelor's degree and specialty "Economic cybernetics" for the master's degree. |
| December 2017 | Khmelnytskyi National University was awarded the Diploma of the Committee on Physical Education and Sports of the Ministry of Education and Culture and the winning Cup of the XIII Summer Universiade of Ukraine. |
| September 2018 | The official opening of the control room of the first solar power station in Ukraine on the roofs of the buildings of the higher educational institution took place at the Khmelnytskyi National University. |
| November 2018 | With the assistance of the Chinese company "JACK" and the official representative in Ukraine - the company "SOFTORG" - the educational and scientific laboratory "Technology and Fashion" was opened at Khmelnytskyi National University at the Department of Technology and Design of Sewing Products. |
| November 2019 | Khmelnytskyi National University represented Ukraine at the X International Scientific Conference Balttrib'2019, which was held in Kaunas (Lithuania), and was dedicated to the problems of friction and wear in agricultural, transport and industrial machinery. |
| 2019 | The Educational and Technical Center at the Department of Mechanical Engineering Technology, Faculty of Engineering Mechanics was opened at Khmelnytskyi National University. This is the first center in the western region of Ukraine. |
| March 2021 | The conference of the labor team of the Khmelnytskyi National University elected Matyukh Serhii Anatoliyovych to the post of rector |
| February 2022 | An agreement of cooperation between the University and the IT company ERAM was signed within the walls of the Khmelnytskyi National University. The agreement envisages long-term cooperation in the field of modern information technologies, which will contribute to increasing the level of training of students and the qualifications of teachers. |
| June 2022 | Khmelnytskyi National University received the Starlink global Internet satellite station of the SpaceX company headed by Elon Musk. |
| October 2022 | On October 14, Khmelnytskyi National University celebrates its 60th anniversary. |